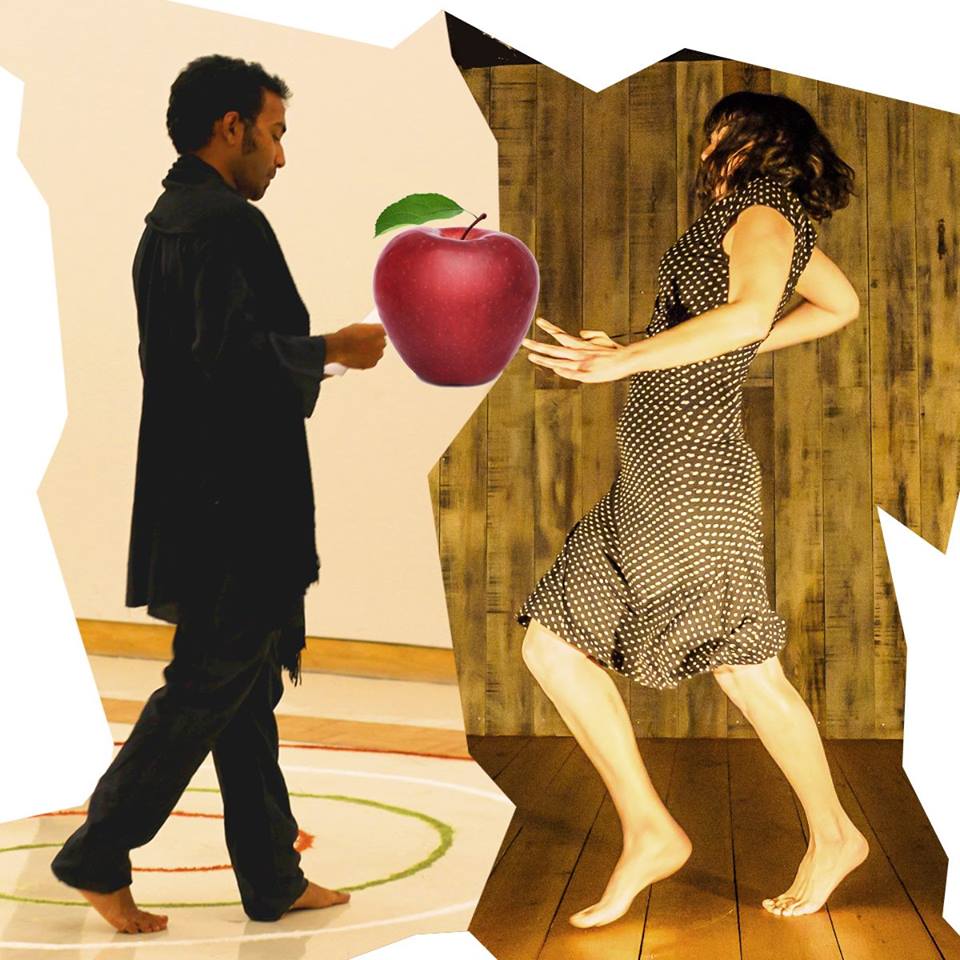 Event Description:
ALBA SOTO + SHUBHO SAHA
"2 artists from different continents are in New York. Their terrible accents to speak English start a wonderfull conversation. Actions and objects complete their communication to understand what they are doing in the Big Apple. If you eat the apple slowly and without anxiety, could you understand the culture and feel more as an American?" - Shubho and Alba
===about the artists===
Shubho Saha is a Dhaka-based interdisciplinary artist, a founding member of the artist collective BackART, and the director of the Dhaka Live Art Biennale (D'Lab). As a leading advocate for the contemporary art field in Bangladesh, he is now in USA in his three-month Asian Cultural Council (ACC) fellowship to research contemporary art practice in the U.S. The aim of his work is to discover the secret relationship of nature with its inner self. The abstraction of the relation goes beyond the collaboration of energy sources. His artistic practice is also engaged with the architectural and mythological history and the effect of consumerism on urban landscapes. Community and Cultural engagement is one of the most important parts in his plan of Art Creation. He believes Involvement and interaction with community generates a volume of much power into the art project and raises a united global voice. This gives a sustainable ability and quality to the whole art project.
Shubho is an award winning artist, received many awards, the majors are: China Sichuan Award in 1999, water color Grand prize in 2001, Honorable award in 2004, Academic Award 2007, Sand Sculpture Grand prize in 2009, Residency Grant in Shangyuan Art Museum, Beijing, China in 2014, Fellowship 2015 in Salina Art Center, KS, USA, Individual Grant Award 2016 from Asian Cultural Council (ACC) in New york, USA and receiving recognition for his innovative ideas and art projects. He likes to work in Printmaking performance, Painting, sculpture, installation etc. as a way to express his endless thinking. He has produced many site-specific artworks that examine and deconstruct the relationship between spaces. His works are featured in solo and invitational exhibitions, and are held in private and corporate collections. He earned his BFA and MFA from Faculty of Fine Arts, University of Dhaka, Bangladesh and born in 26th May, 1982 in Chittagong , Bangladesh.
+
Alba Soto holds a Ph.D in Fine Arts and she is an actively working artist from Madrid, Spain. She studied Visual and Scenic Arts, and she is a specialist in interdisciplinary and performing tools for creation and teaching practice. From 2009 to 2015, she served as the chairperson and as a professor of Fine Arts at Universidad Nebrija. Dr. Soto has conducted workshops and seminars at a number of universities around the world; Finland, Colombia, England, USA and Germany. Her performances, video art and drawings have been showcased at a number of national and international festivals and exhibitions; Spain, China, USA, Poland, Italy and Holand. Her artistic work relies on a variety of processes and the flexibility of techniques. This alleged dispersion concretizes a particular universe, one in which all things relate to each other. It weaves a coherent narrative underpinned by intuition, spontaneity and surprise as strategies for survival. Her performative universe begins with her surrounding reality. Through direct contact with the space, the objects and the audience, the most intimate experiences are healed through the act of performance. These experiences, questions, and desires, are first symbolically constructed, then ritualized with inevitable tints of irony. (www.albasoto.com)