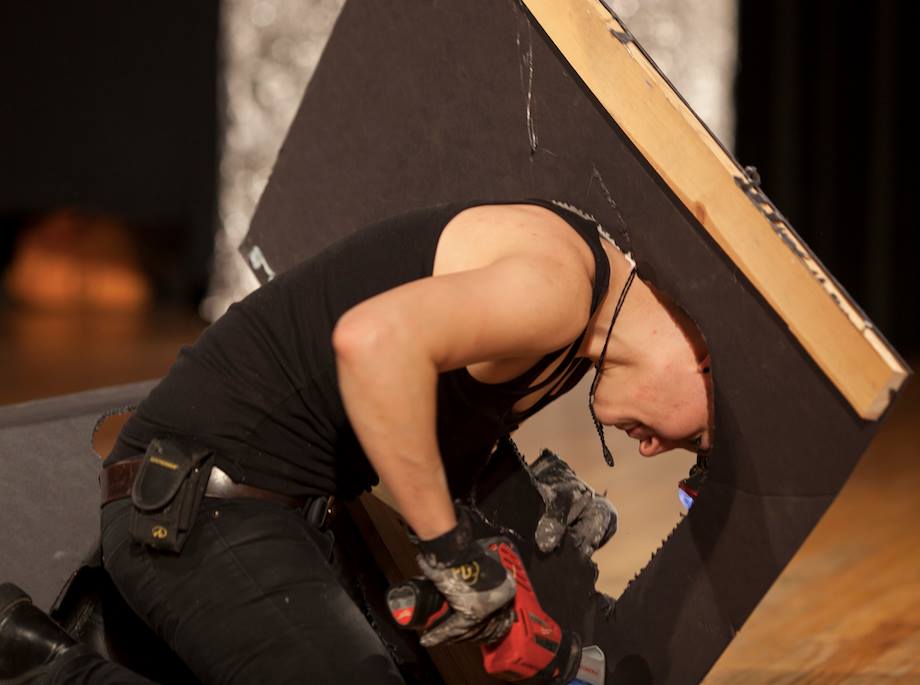 Event Description:
JUST SITUATIONS: a performative convention https://www.facebook.com/events/1975315539357388/
justsituations.wordpress.com
Day Five: Reading Conditions
What are the elements of "a situation"? How do we inscribe, read into, interpret, and mark our world(s)? Abstraction, social magnetics, communication, (con)text, and forms of semiotic transparency perform "reads" of our conditions, backgrounds, ethics, identities, and ideals.
8pm-11pm
Ayana Evans
IV Castellanos
Nicole Goodwin
Danielle Abrams
+++SITUATOR CONTEXTUAL INFORMATION+++
DANIELLE ABRAMS
Danielle Abrams' performances react to the social tensions that shape her experiences as a biracial lesbian. Her performances blend scripted and improvised language, and public encounters that rely on engaged participation. She adopts contradictory personae that are also autobiographical, and animates the ambivalent relationships between racial and ethnic groups. Her menagerie of personifications stage humorous encounters while reimagining the cultural narratives of art history, civil rights, and popular culture.
Danielle Abrams has performed at Museum of Fine Arts (Boston), Detroit Institute of the Arts, Institute of Contemporary Art (Boston) Bronx Museum of the Arts, Roger Smith Hotel (NY), The Jewish Museum (NY), Queens Museum, Santa Barbara Contemporary Arts Forum, WOW Performance Cafe, and The Kitchen. Abrams has received grants from The New York Foundation of the Arts, Urban Arts Initiative, and the Franklin Furnace Performance Art Fund. She is a Professor of Practice in Performance at School of the Museum of Fine Arts at Tufts University. http://www.danielleabrams.com/
+
IV CASTELLANOS
IV Castellanos is an abstract performance artist and sculptor based in Brooklyn, NY. They have performed at the Queens Museum, Gruentaler9 (Berlin), DFBRL8R (Chicago), Grace Exhibiton Space, IV Soldiers, Dixon Place, PPL, Gallery Sensei and Rosekill (Kingston, NY). They founded the F.A.G. (Feminist Art Group), 2016 with co-founder Esther Neff, which has alternating performers.
IV will perform a piece called: Brick x Brick v
+
AYANA EVANS
Ayana Evans is a NYC based artist. She frequently visits her hometown of Chicago whose Midwestern and sometimes controversial reputation is a major influence on her art. Evans received her MFA in painting from the Tyler School of Art at Temple University and her BA in Visual Arts from Brown University. She has attended the Skowhegan School of Painting & Sculpture and the Vermont Studio Center. In 2015 she received the Jerome Foundation's Theater and Travel & Study Grant for artistic research abroad. During Summer 2016 Evans completed her installment of the residency, "Back in Five Minutes" at El Museo Del Barrio in NYC..She also completed a series this Summer 2017 "A Person of the Crowd" at the Barnes Foundation, Philadelphia, PA; as well as FAIP an international performance festival, Martinique; "Light Happenings II" presented by Lab Bodies, Baltimore, MD; and Rapid Pulse Retrospective, Chicago, IL.
Evans's on-going performances/public interventions include: "Operation Catsuit" and "I Just Came Here to Find a Husband." She has curated and co-curated performance art shows throughout New York, worked in arts education for a decade, and is Editor at Larger for www.cultbytes.com. Her recent press includes articles on New York Magazine's The Cut, HyperAllergic, the Huffington Post and gallerygurls.net. https://www.ayanaevans.com/
For more information on her upcoming projects and impromptu public performances follow her on instagram @ayana.m.evans and visit www.ijustcameheretofindahusband.com
Artist Statement/ Performance practice:
I often articulate my ideas through different modes of actions and appearances from our daily living-practices. Mundane repetitive movements or physical struggles are my primary forms of expression. These actions collaborate in acknowledging, collecting, and creating evidence of my "self," as they are laced with personal stories that exude both humor and pain. My performance practice continuously reveals larger explanations and speculations of (re)defining/categorizing significances, meanings and values within the hegemonic society. It is important for me to exert a conceptual and tactful way of thinking, seeing, inhabiting marginalized bodies (and spaces) through my art practices.
+
NICOLE GOODWIN
Nicole Goodwin is the author of Warcries, as well as the 2017 EMERGENYC Hemispheric Institute Fellow, the 2013-2014 Queer Art Mentorship Queer Art Literary Fellow, as well as the winner of The Fresh Fruit Festival's 2013 Award for Performance Poetry. She published the articles "Talking with My Daughter…" and "Why is this Happening in Your Life…" (Personal essay/Review for award-winning documentary Tough Love) in the New York Times' parentblog Motherlode. Additionally, her work "Desert Flowers" was shortlisted and selected for performance by the Women Playwriting International Conference in Cape Town, South Africa.
http://femmesfollesnebraska.tumblr.com/post/55883219156/nicole-goodwin-poet