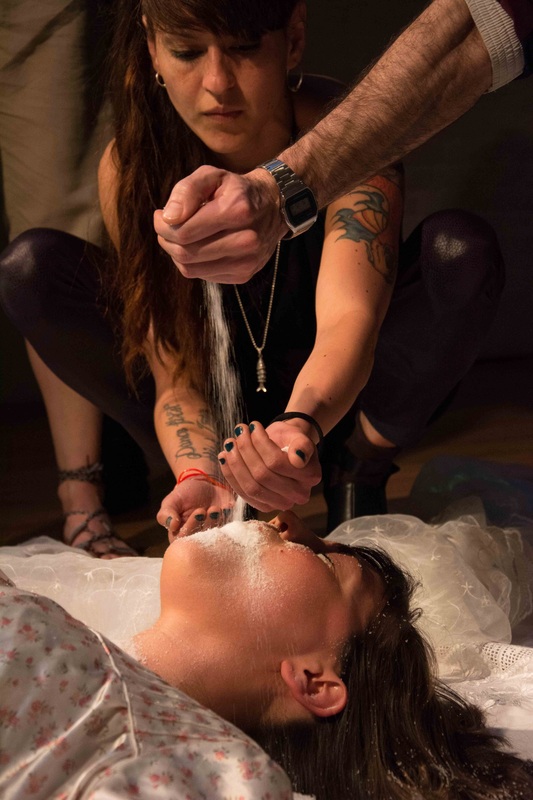 Date:
Saturday, February 14th 2015
Event Description:
Rae Goodwin will perform a durational work from 5-9pm
Participating artists with short-form performances 9-11pm:
Nabeela Vega
Tif Robinette
Sylva Dean and Me
Claribel Jolie Pichardo
this exhibition is a part of the program PERFORMANCY FORUM
RAE GOODWIN: "milk-glass-apron-sugar-sugar"
Rae Goodwin's work examines aspects of maternal ancestry and familial lineage as it influences the construction of identity, along with gender-based assumptions about freedom, the unknown and communication. She earned an MFA from Winthrop University and has shown work at the Atlanta Contemporary Art Center, McColl Center for Visual Art, Dimanche Rouge in Paris, 10/12 Gallery and Sign 6 in Brussels, defibrillator gallery, SUPERNOVA and BIPAF festivals and other venues. This May she will perform in Month of Performance Art Berlin and other venues in France. She also serves as and Assistant Professor and Director of Art Foundations at the University of Kentucky.
"As we swing from the hair of our Grandmothers we are tied to our past and connected to a deep part of ourselves. Notions of nostalgia are soaked in sugar, minty sweetness and fragmented memories of who she might have been in the early times before we could have known. In milk-glass-apron-sugar-sugar I explore these associations of maternal ancestry and ask the audience to help me find her sticky sweetness."