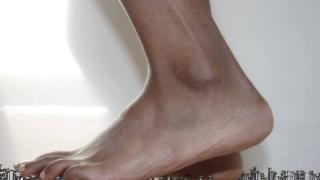 Thursday, April 7th 2016

to

Sunday, April 10th 2016
Device controlled. A collaboration between two artists (Nia Nottage and Frances Yeoland).
THURSDAY, APRIL 7: Opening, 8pm
FRIDAY, APRIL 8: Activations of the installation, 8pm: Geraldo Mercado, Ivy Castellanos, Amanda Hunt, Kaia Gilje
SATURDAY, APRIL 9: Activations of the installation, 8pm: Thea Little, David Ian Griess, Ayana Evans
SUNDAY, APRIL 10: Video/Film, 6pm
A constructed platform for experiencing physical sensation that is foreign to everyday physical perception. Hold/release, hold/ release, hold/ release; an apparatus for tension control.
NIA NOTTAGE
Performance artist | Detroit
nianottage.com
Romance lives in the gap between reality and the dream world.
You don't have to be miserable to be deep, relationships with objects teach us a lot about ourselves, libido is only demonized b/c it's a powerful tool for haptic touch that can inform corporeal understanding and cause alternate perceptions of happiness. Nia Nottage is a performance artist.
FRANCES YEOLAND
Visual artist | Sydney
francesyeoland.com
Human attempt at understanding is about ownership, and labeling is a symptom of this failure. This work is a composition of material that asks for meaning from the viewer based on its appearance of logic and rationality. It's is an absurd puzzle of familiar, tactile and industrial materiality. It is a system of symbols taken out of context, reframing our perception of value and meaning.