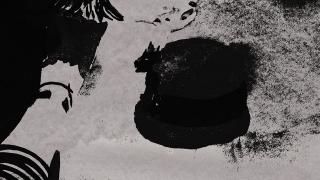 Sunday, December 11th 2016
"Knock, Mark, Stitch"
Long-distance collaborators Setare Arashloo, Iran Sanadzadeh and Angus Mason will be performing their first live performance of their work together. 
Setare and Iran have moved out of Iran to the United States and Australia respectively, and exploring long-distance collaboration and communication is an on-going part of their work. This performance of video, percussion and embroidery, is the construction of their work on the role of objects and detailed, sometimes mundane, repetitive processes and our relationship to them in confined spaces. The work draws on interviews from ex-convicts and Setare and Iran's memories growing up with some of these people. Angus Mason will be improvising on drums on the basis of the Morse Code translation of the interviews. The three elements are individual in their presentation, but overlap in space. Iran and Angus collaborate regularly in Adelaide on controlled-improvisational works. This performance brings together all three artists performing in domains new to them, all together, and to quote Cage, not having anything to say and saying it.