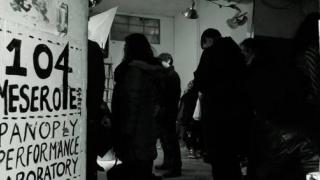 Sunday, February 24th 2013
Double the Birthday, Grow a third Arm. JUST YOU WAIT AND SEE.
Household Tales - If Edward Hopper and Edward Gorey played a game of Scrabble and it turned into a lost child, they would name it Household Tales. With William Lea and David Redbranch on guitars/vocals, Sean Ali on bass, Tim Shortle on drums. https://www.facebook.com/householdtales
Theodore Robinson - aka Leland Wulff aka Suspensers, pusher of the finest acid-country tunes heard in an age, plus a damn fine performer to boot.
The Resident Artists of PPL (Brian McCorkle, Esther Neff, B.J. Dini, Simon Seapony, Valerie Kuehne - http://panoplylab.org/estherneff/ http://panoplylab.org/brianmccorkle/ http://vimeo.com/user4156514
Michael Durek - NYC's favorite theremin-toting-festival-organizing-cosmic-collaborator weaving a saucy blend of pulsitile, structured, yet free electronic music making use of synths, theremins, and sampled sounds recorded from Durek's everyday life http://michaeldurek.com/wp/
Matt Dallow - outlaw accordionist busker extraordinaire, the heavens will rattle, and you may need another drink for this one. https://www.facebook.com/MattDallowMusic?ref=ts&fref=ts
Raymond Todd - Poetry
MORE TBA Streaming KITTEN VIDEOS all night LONG. donations collected for the show will go towards adopting a resident kitten at PPL!