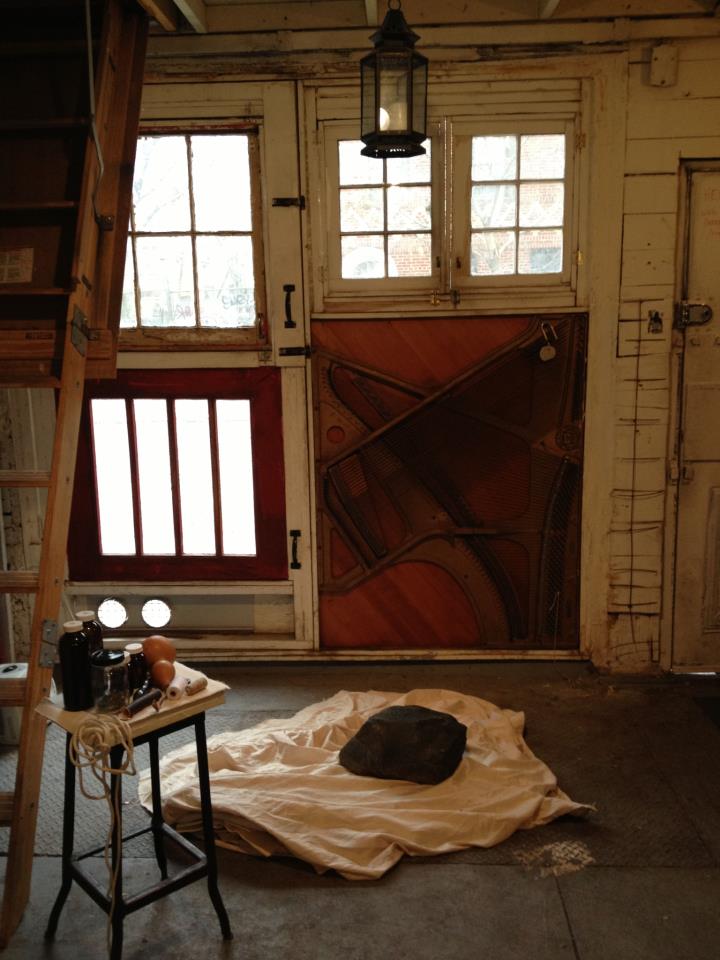 Date:
Saturday, February 16th 2013
Event Description:
Stitching in time, calculations and curtains, pattern-making and poles, needles, numbers, and know-how, levitations, investigations, castings and causation, the hoop is woven around four women performance artists as they practice durational craft and consider the relationships between hand-making and power, womanity and work, sciences of situation, and other tangled warps and wefts of the performance art. The sun sets and night falls... 4pm-9pm, Saturday, February 16.
+ the No Wave Performance Task Force at 9pm
BIOS/STATEMENTS Sindy Butz is a Visual and Performance Artist. She creates narratives, artifacts/wearables and installations with a centered thematic focus on mankind and human awareness. She explores a broad spectrum of interests such as Moral-/ Philosophy, Perspectivism, Romantic Crafts/Rituals/Traditions and Human Identity. In the process of creating, analytical and scientific Research plays a very important part for her body of work. Mainly during the formation of her Performances she processes her thirst for knowledge through conceptual; empiric but also emotional studies. She shares her philosophic explorations and questioning on a very personal, intimate and mental level. Sindy Butz was born in East Germany, grew up in the suburbs of East Berlin and now lives in New York.
She holds a B.F.A. in Sculpting/AKI- ARTez Netherlands, a M.F.A. in Art Science/ UdK Berlin and was international Scholar at ITP Tisch/ Interactive Telecommunications/ NYU/NYC. She has received the 2010 DAAD Artist- Research Grant on wearable ceramics for the Interactive Telecommunications Program at New York University. There she additionally focused on Fashioning Technology. Sindy has exhibited nationally and internationally including Culturefix Gallery/NY, Grace Exhibition Space/ NY, Microscope Gallery/NY, Dino Eli Gallery/ NY, Lambert Fine Arts Gallery/NY, English Kills Gallery/NY, Museum der Dinge/ Berlin, Yogiga Expression Gallery/ Seoul, South Korea as well as the Korean Experimental Performance Festival KEAF Seoul, Non Grata's Diverse Universe Tours Europe and USA Tours 2005-2013, the Performance Congress Sacramento/ SoToDo/ USA and Fountain Art Fair Miami 2012. Additionally she is Principal Dancer at the Butoh Dance Company, Vangeline Theater New York since 2010. The company has performed at Angel Orensaz Foundation, Triskelion Arts Brooklyn, Bronx Academy of Art and Dance, Dixon Place, CUNY/City University of New York and Asian American Art Alliance just to name a few. +++++
Ivy Castellanos is a danger of a performance. Crumbs and debris often remain from the actions while silence fills the audience during the final moments of a performative work. The constructed objects Ivy creates are blended extensions of self and abstractly resemble the body. The gestures and moves are often unpredictable and the narrative is left for the viewer to define. The small hints of flesh that is seen by the viewer amplifies the strain on the performer that accelerates throughout a work. Ivy can be called a 'violent sculpture' but the content is always an abstraction and any hint of information further complexes a definition or reason for a work. Powerful, lasting, and intense are the elements from Ivy's work that must be seen in person in order to feel the full energy of a performance. ++++
Amber Lee started her career working in the theatre. In addition to majoring in acting, she held technical positions at several professional theatres including Synetic Theatre in DC and The Neofuturists in Chicago. Amber started as a volunteer at Defibrillator Performance Art Gallery in February of 2012. She now serves as Director of Artist Hospitality along with her co-director, William Kendall. The co-directors also serve as partners in the developing performance group Dance Tone Q. Amber has done performances in Chicago, Berlin, Paris, and The Netherlands working with several different performance groups including a European tour with Non Grata.In addition to performing, Amber continues to work in theatre, photography, video, and writing. Work in other mediums can be found at sister website An Act of Whimsy andHitRECord. +++
Hilary Sand is an artist, writer, and theorist who lives and works in Brooklyn. Originally from San Diego, she received a B.A. with Honors in Art History, Theory, and Criticism as well as a minor in studio art when she graduated magna cum laude in 2010 from University of California, San Diego. While at UCSD, Ms. Sand concentrated on photographic and architectural theories and histories, and was among seven undergraduates invited to participate in the panel on visual culture at the 2010 Undergraduate Research Conference, where she presented her thesis, entitled "Scenery, Sculpture, Symbol, Subject: the Evolution and Depiction of Architecture in Photography." She also curated the university-wide exhibition Subject Subject in 2010, which included about a hundred works by more than fifty student artists in a variety of media: drawing, painting, sculpture, installation, new media, an outdoor video garden, and ongoing performances throughout the opening.
Sand relocated to New York to study Arts Politics at NYU's Tisch School of the Arts in 2010, where, under the mentorship of Karen Finley, her work focused on gender and identity construction and she was awarded her M.A. in 2011. Her piece "It's an Ideology in Here" appears in the limited edition anthology MANIFEST-O, a publication that accompanied the October 2010 inaugural exhibition of the same name at Concrete Utopia, an alternative space in Brooklyn. In New York, Sand's work has been shown at Dixon Place, the Affordable Arts Fair, Concrete Utopia, Grace Exhibition Space, Fitness Center for Arts and Tactics, and on various streets throughout the city. "Wear-ee" will be her first performance with Panoply Performance Lab, and is part of an ongoing investigation into the material properties and social histories of textiles that Sand has been working on for the past five years in both performance and sculptural works. NWPTF is a flexible collective of feminists. Facebook event HERE (curated by Esther Neff)