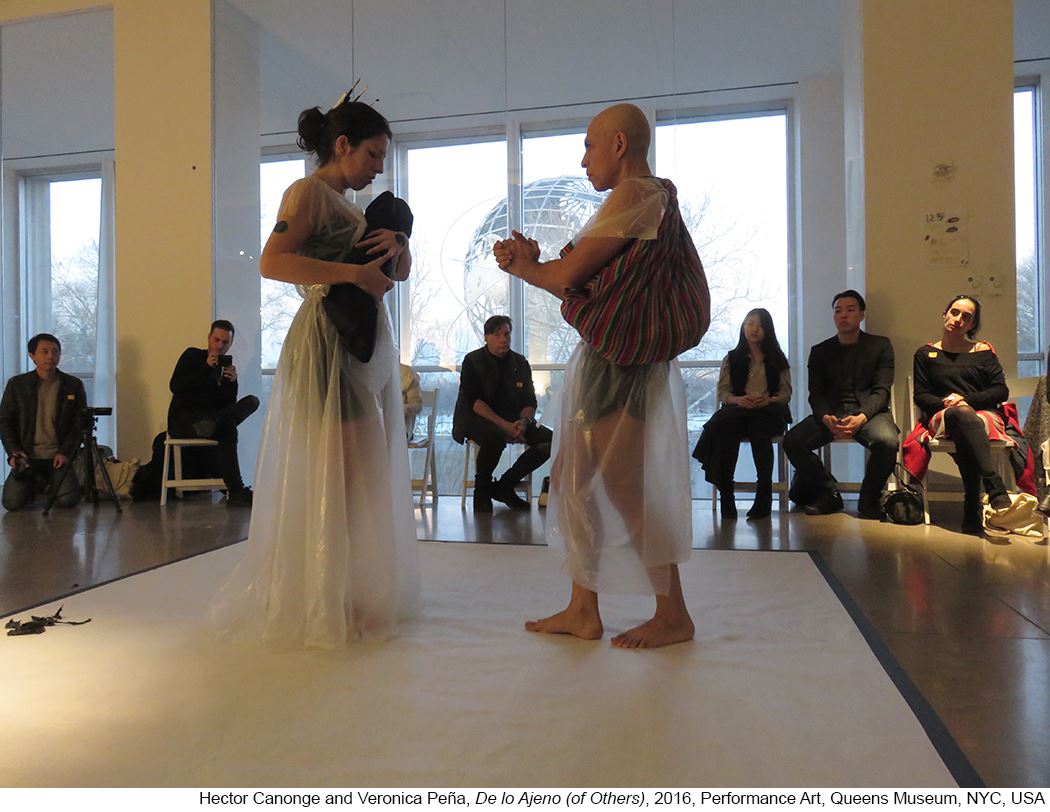 Event Description:
De lo Lejano (of the Distant): HECTOR CANONGE & VERONICA PEÑA
Durational Performance, 2016
6pm - 12am
Panoply Performance Laboratory
Pay-what-you-can
Come-and-go-as-you-please
Beverages lovingly provided by Brooklyn Brewery
De lo Lejano (of the Distant) is a durational performance that explores human (dis)connections and (un)common practices found in daily tasks. The performance is structured in three independent yet related parts with actions that develop into an immersive sensorial environment. Using everyday materials, the artists establish a dialogue of constant transformation and ludic tension with unpredictable explosions of self awareness. De lo Lejano (of the Distant) proposes reflections on living patterns, new structures of communication, individual liberation, and mutual understanding. 
De lo Lejano (of the Distant) is the second Performance Art collaboration project between artists Hector Canonge and Verónica Peña. After meeting in 2014 and coinciding in festivals such as the Month of Performance Art in Berlin, the International Performance Art Festival ITINERANT 2015 in New York City, and various other programs in Europe and Latin America, Canonge and Peña started to collaborate in 2016 with the project "De lo Ajeno" (of Others) presented at LiVEART.US hosted at the Queens Museum. Their collaborative work is grounded on their concerns about identity, migration, and cultural relations. This new performance further advances their research and praxis in corporeal expressions related to human connections, symbolic tasks, and personal experiences. 
Brief Briographies:
Hector Canonge is an interdisciplinary artist, curator and cultural entrepreneur based in New York City. His work incorporates the use of new media technologies, cinematic narratives, performance, and socially engaged art to explore and treat issues related to constructions of identity, gender roles, psychogeography, and the politics of migration. Challenging the white box settings of a gallery or a museum, or intervening directly in public spaces, his performances mediate movement, endurance, and ritualistic processes. Some of his actions and carefully choreographed performances involve collaborating with other artists and interacting with audiences. His installations, interactive platforms, and performance art work have been exhibited and presented in the United States, Latin America, Europe and Asia. As cultural entrepreneur, Canonge created, and organizes independently the annual Performance Art Festival NYC, ITINERANT. He started projects such as ARTerial Performance Lab (APLAB), an initiative to foster collaboration among performance artists from the Americas, PERFORMEANDO, a program that focuses on featuring Hispanic performance artists living in the USA and Europe, NEXUSURNEXUS a virtual platform for Live Action Art, and PERFORMAXIS, an international residency program in collaboration with galleries and art spaces in Latin America. Canonge co-founded QMAD, Queens Media Arts Development, a non-profit arts organization in Queens, NYC, and as curator, he has organized exhibitions at Centro Cultural Santa Cruz, Queens Museum, Space 37 Gallery, and Visual AIDS. He created programs such as the monthly artist dialog series A-LAB Forum at Crossing Art Gallery, and the monthly independent LGBT film series CINEMAROSA. Canonge's work has been reviewed by The New York Times, ART FORUM, Art in America, New York Daily News, Manhattan Times, Hispanic Magazine; by major networks ABC, NBC, CNN, CBS, UNIVISION, etc., and online by Art Experience NYC, Hyperallergic, Turbulence, Art Card Review, and New York Foundation for the Arts' bulletin NYFA News
More information: www.hectorcanonge.net
Verónica Peña is an interdisciplinary artist from Spain based in the United States. Peña's work explores the themes of absence, separation, and the search for harmony through performance art. Her recent work consists of experimental participatory performances that create shared moments amongst strangers. Peña earned her Bachelor of Fine Arts at The Polytechnic University of Valencia, Spain. She earned her Master of Fine Arts at Stony Brook University, New York, focusing on installation and performance art. Peña has exhibited in Spain, Germany, Italy, South Korea, and the United States. In New York, her work has been featured at the Queens Museum, Grace Exhibition Space, Momenta Art Gallery, The Lab Gallery (for Installation + Performance Art), Times Square (Times Square Alliance), at the Armory Show 2010 (Gabarron Foundation), in the "13th DUMBO Arts Festival (DUMBO Arts Center), and numerous not-for-profit galleries. In Spain, her work has been exhibited at Casa de America (Madrid), Fundacion Antonio Saura (Cuenca), Museo Orus (Zaragoza), and Fundacion Caja Rioja (La Rioja) amongst others. She has been a recipient of the Socrates-Erasmus Grant, the Universidad Complutense de Madrid Fellowship, and a candidate for the Dedalus Foundation Grant. She has been an Artist-in-Residence at Vermont Studio Center, United States. She curates "Collective Becoming: The Urban Caress", an initiative to make of the streets of our cities a place less hostile. She has published "The Presence Of The Absent", a thesis about her body of work.
More information: www.veronicapena.com