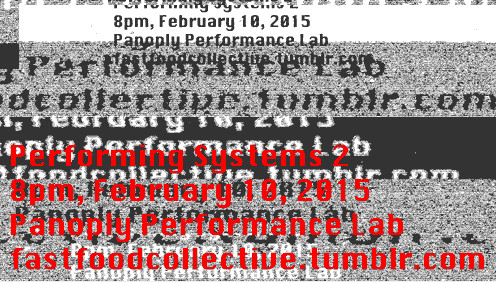 Date:
Tuesday, February 10th 2015
Event Description:
Ginny Benson Phillip Stearns Jonas Bers Chris Balint + John Bowman Eric Barry Drasin Jeff Donaldson + Scott Sinclair Curated by Eric Barry Drasin
http://fastfoodcollective.tumblr.com/
This edition of Performing Systems explores practices in analog signal processing and hacked video equipment. We've assembled a tremendous lineup of Real time Video Artists who will present video scores with custom hardware and augmented systems. Performing Systems is a series investigating contemporary practices in New Cinema and Realtime Video Performance. We seek to exhibit work that falls at the intersection of technical systems, performance, score and improvisation. Artists will present Realtime Performative works up to 30 minutes for Single Channel Projection with Sound. Through a broad survey of technologies and aesthetics, we seek to understand the language of Realtime that defines our historical moment of technology and art. In doing so we simultaneously seek to highlight and frame these emerging practices, creating a context for their exhibition that legitimizes as it establishes and expands its definition. This includes but is not limited to Generative Software systems, Custom Dataflow Processing Patches, Circuit Bent Instruments, Custom Circuits, or Modular Video Synthesizers.