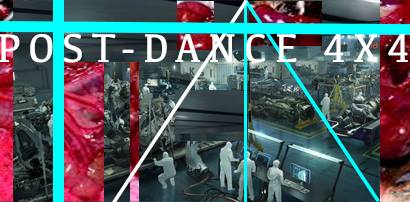 Date:
Saturday, December 13th 2014
Event Description:
dealings with architecture and dialectics materiality architecture theory the deconstructive, the constructive, the pathological, the parasitic, the downright political AND "my work is site-specific to your lower intestines" PLUS what is the structure of structures?
POST-DANCE WORKS BY:
Li/cata and Ciar/pella Alex Rodabaugh Millie Kapp Lorene Bouboushian/Kaia Gilje/Valerie Kuehne
Co-curated with Li Cata
The term "post-dance" belongs to Lindsey Drury, who gracefully lets us borrow it now and again.
******BIOS and LINKS********
Li Cata is a dance artist and arts organizer. Li loves cooperation, struggle, compromise, and conflict. Hell is no other people. http://cargocollective.com/licata
Alex Rodabaugh is a dancer, dance maker, and performer. Most recent work: www.g1br33l.info
Millie Kapp is a performance artist living and working in New York. She received her MA in Performance Studies from New York University and BA in Visual and Critical Studies from School of the Art Institute of Chicago. Kapp has presented her work in Oakland, Chicago, Minneapolis, Toronto, and New York and participated in artist residencies around the US. Kapp also teaches performance-based classes and workshops and has done visiting artist lectures at Maryland Institute College of the Arts, the University of Chicago and Stony Brook College. Though her performance work is primarily dance-based, her work crosses disciplines incorporating video, sculpture and text. Kapp is also a writer and curator and has curated performance events in Chicago and New York.
Lorene Bouboushian: "I was born to an Armenian father from Lebanon and a probably Irish mother from New Orleans in Corsicana, Texas. I lived near a pasture in a small house, and danced in studios and on a dance team, where I tied for Miss High Kick in 2005. I went to a wealthy liberal arts college in New York where everything about myself was thrown into relief. I studied with lots of wonderful people and made it to Ghana, where I spent hours on end at rituals, trying to figure out how life with possession, rhythm, and shared movement is. I came back to New York because the man on the subway whose nervous head tick, and the old Czech woman talking loudly about cancer on the phone hold a frenetic energy that fascinates me in a different way, and has for years. I still return to Texas and the sky and the flatness and the screwiness of rural life. I still remember Ghana. This range of moments make my work here. In my work, they collide with music that makes me tick, sounding and rhythm, intimacy and shock, absurdity and humor, and what it means to perform our silly, paltry, emotional selves (and perform others). These have led me to create solo works presented at the Judson Church, Ulla's House, AUNTS, and the West End Theater. In 2011 I was the recipient of a Fresh Tracks Residency through New York Live Arts. More recently, I have become more interested in improvisation that suggests comedy and vaudevillian traditions while experimentally challenging what performance and improv are. This has led to performances at Panoply Performance Lab, Vaudeville Park, Grace Exhibition Space, Bizarre, the Delancey, Muchmore's,Cage, and JACK (through the Brooklyn International Performance Art Festival). This research also contributes to my work as an independent teacher, through CLASSCLASSCLASS, La Universidad de Las Americas Puebla (Mexico), and with Wingspan Arts. All of my work has been informed by my experiences as a performer with luciana achugar, Melinda Ring, Kathy Westwater, Daria Fain, Lindsey Drury, and Panoply Performance Lab."
Kaia Gilje "We desire to break apart our selves, objects, situations, and movement into simple pieces in order to better see and feel existing and potential relationships. We also desire to join. As this happens we strain to listen to millions of buzzing, humming anythings and huge buzzings and hummings of nothings." (written with collaborator Paige Fredlund)
Valerie Kuehne is a cross-pollinated work of chaos. Fusing together music, performance art, narrative, and experimental curation, she has been told that, "if this music thing doesn't work out, she'd probably make an awesome cult leader." (Boston Public Space). After moving to New York to study Philosophy at The New School, Ms. Kuehne has systematically bifurcated her time between touring the planet, performing in as many unexpected settings as possible, and building a community for experimental music and performance art in New York. Her series, The Super Coda, is an experimental cabaret that has united electrifying performers 5 years running. Ms. Kuehne's work operates under principles of surprise, and investigates obsession, comedy, decay, forensic pathology, sex, hypnogogia, viscera, death. She created and composed for the ensemble Dream Zoo and is one third of the improvised music trio Prehistoric Horse and half of the duo Naked Roots Conducive. While she most frequently performs solo, she is an avid collaborator and has worked with many of NYC's finest underground musicians and artists. She has spent much of the past year in collaboration with Natalia Barnatny Steinbach, and with Esther Neff and Brian McCorkle of the Panoply Performance Laboratory, percussionist David Grollman, accordionist and trapeze artist Matt Dallow, and grindcore violinist and incessant touring artist Joey Molinaro. She has curatorially joined forces on several occasions with PPL, IV Soldiers, composer and pianist Jonathan Wood Vincent, 109 Gallery, and the ongoing music and performance series Small Beast. In February 2012, she performed with outsider artist Jandek. There was once a time when she played cello for Billy Joel's daughter. Ms. Kuehne performs "with a marathon persistence to rival B.B. King in his most energetic years" (New York Music Daily), She has been seen in venues such as Carnegie Hall, Webster Hall, Judson Memorial Church, Brigham Young University, the Stone, Highline Ballroom, the Berlin Zoologischer Garten, the NYC Subway. She has participated, as an artist and a curator, in international festivals such as the MPA-B, the experi-MENTAL festival, X-fest, the Boise Improvised and Creative Music Festival, the Sonic Circuits Festival of Experimental Music, and JazzPeru, Brooklyn International Performance Art Festival, to name a few. She is a curatorial fellow at PPL. http://www.valeriekuehne.com/