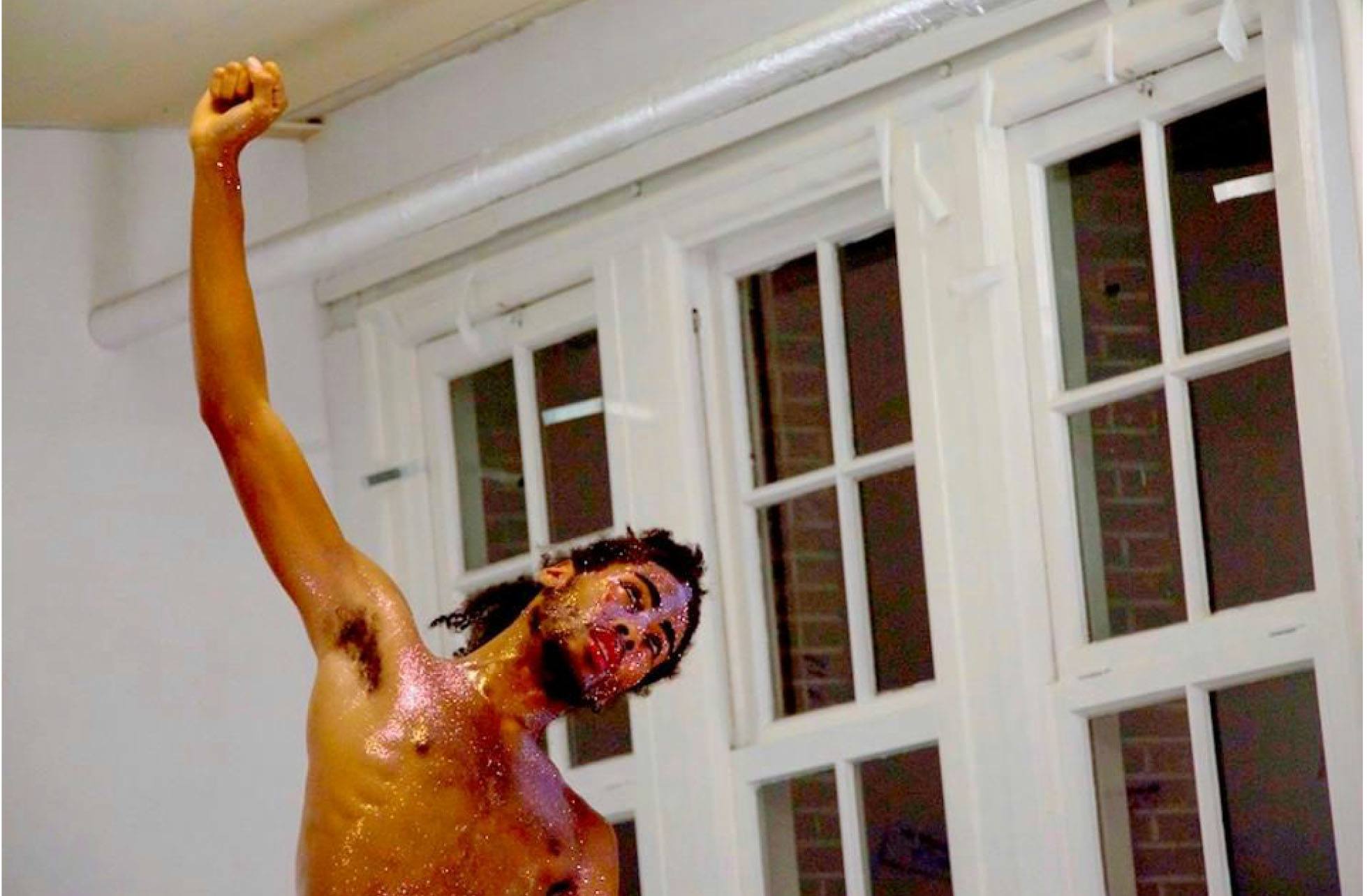 Date:
Thursday, May 12th 2016

to

Saturday, May 14th 2016
Event Description:
A S S I M I L A T I O N is a solo choreography that cogently collects images placed together in order to secure multilogical Afrofuturity. The imbrication of queer, anarchist, and pro-Black ontologies alongside a current state of socio-political affairs creates choreographic systems that suggest new existential possibilities through recalling and resituating the allostatic load (the wearing and tearing of the body due to consistent stress) faced by the Black body as caused by frequent abuse, and also as the ripest site for radical discourse. 
Thursday, May 12, 8pm
Friday, May 13, 8pm
Saturday, May 14, 6pm
(followed by PERFORMANCY FORUM)
Runtime: 1h10
Pay-what-you-can suggested donation $5-25
A S S I M I L A T I O N is choreographed by Malik Nashad Sharpe under the alias marikiscrycrycry, and has been supported by CLOUD at Danslab in Den Haag, Netherlands, the University of Illinois, Urbana-Champaign Department of Dance, and FiveMyles Gallery in Brooklyn, New York City.
marikiscrycrycry/Malik Nashad Sharpe (Performer and Choreographer) is an avant-garde choreographer, poet, and dancer based between New York City and London. His research interrogates politics, aesthetics, the image, queerness, and Afrofuturism. He graduated with highest honors in experimental dance from Williams College, and received a Diploma with distinction in Contemporary Dance from the Trinity Laban Conservatoire for Music and Dance, where his work "why does he want to kill me in an alley" was awarded the Simone Michel Prize for Outstanding Choreography. He has worked with Hana van der Kolk, Kota Yamazaki, Randy Reyes, Alexandra Maricich, Tere O'Connor, Cynthia Oliver, Joshua Bisset/Shua Group, and Ingrid Nachstern/Night Star Dance Company and his work has been presented at the Bonnie Bird Theatre in London, at the '62 Center for Theatre and Dance in Williamstown, Massachusetts, CLOUD at Danslab in Den Haag, the Netherlands, AKC Attack in Zagreb, Croatia, the Krannert Center for Performing Arts in Champaign, Illinois, and at various New York City venues, including ShuaSpace, the West End Theatre/Bang Group, Otion Front Studio, Secret Project Robot Art Experiment, FiveMyles Gallery, and Bushwick Open Studios. His newest work "ROTTERDAM" will premiere at FiveMyles Gallery in November 2016.
A S S I M I L A T I O N: marikiscrycrycry is curated by the fen serf as part of PERFORMANCY FORUM: www.performancyforum.net.PERFORMANCY FORUM is a project of Panoply Performance Laboratory (PPL) and is sponsored, in part, by the Greater New York Arts Development Fund of the New York City Department of Cultural Affairs, administered by Brooklyn Arts Council (BAC). Subsidized beverages provided by Brooklyn Brewery.