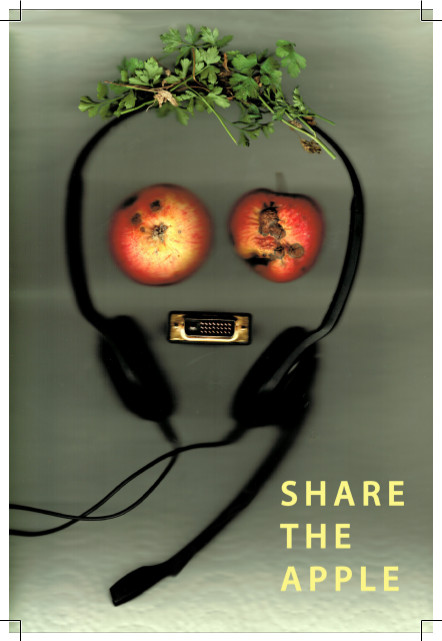 Date:
Friday, December 13th 2013

to

Saturday, December 14th 2013
Event Description:
SHARE THE APPLE Simultaneous Transatlantic 24/24 Online Performance
Concept, Performer in Brooklyn: Christian Kuntner
Performer in Aarau, Switzerland: Christoph Hess, aka "Strotter Inst."
SHARE THE APPLE is a simultaneous, durational performance by two performers 4000 miles away from each other. The concept is to offer an opportunity to experience the depth of space and time via a portal between Brooklyn and Aarau, between two Swiss artists, Christian and Christoph, thus deviating our focus onto our own thinking and the change of our current perception. The two artists will perform durationally for the whole 24 hours, documenting while participating, putting documentation of previous events into their performance and allowing them to feedback across the ocean. Christoph in Aarau and Christian in New York will conduct parallel 24-hour performances which will be streamed to each other. The stream will be projected and appear on several monitors in their respective spaces. Each performance will occur in a different time of day simultaneously, so that the time lag will lend each performance a particular characteristic. The spectators will (passively or actively, voluntarily or involuntarily) provide the structural and shaping character of the performance: "They see, being aware of being seen." The artists will intervene with simple and subtle methods effecting and involving setting and spectators.
PARTICIPATION: Friday, 3:00pm : We are asking participants to bring a favorite text or poem in their mother language for 3 or 4 minutes. Texts will be available via the PPL library and the internet as well. Friday, 5:30pm : Participants will be provided a small radio as part of the "Ghettoblaster Arkestra." Saturday, 11:00am : Participants who bring vegetables will add those vegetables to the soup made by the contributing artist. This performance is also featuring: Astride Schlaefli (SWI), Valerie Kuehne (US), the Swiss group Halbprivat, and the New Yorkers Rene Kladzyk and LathanFlinAli. A big hug goes to Dominik Holliger, the main troubleshooter and IT-responsible person in Aarau. With the help of the people of Panoply performance Lab Brooklyn (especially Brain McCorkle and Esther Neff), Bar-Garage Aarau (Wenzel A. Haller) and Kunstraum Aarau (Thomas Widmer) it has been possible to set up this performance.
TIMETABLE: Start of Performance: December, 13, 2013, 1pm End of Performance: December 14, 2013, 1pm Performance Blocks: 14 blocks of 30 minutes each. At other times the connection remains open and functional. There will be a fixed installation of camera, microphone, and a monitor at the disposal of passers-by so that they can communicate spontaneously with passers-by in the opposite city. A LINK TO THE COMPLETE SCHEDULE
CONNECTED VENUES: Venue in New York: Panoply Performance Laboratory, 104 Meserole Street, Brooklyn Venue in Aarau: Bistro GARAGE, Kirchgasse 6, Aarau, Switzerland www.kuntner.ch www.strotter.org www.panoplylab.org www.garasche.ch