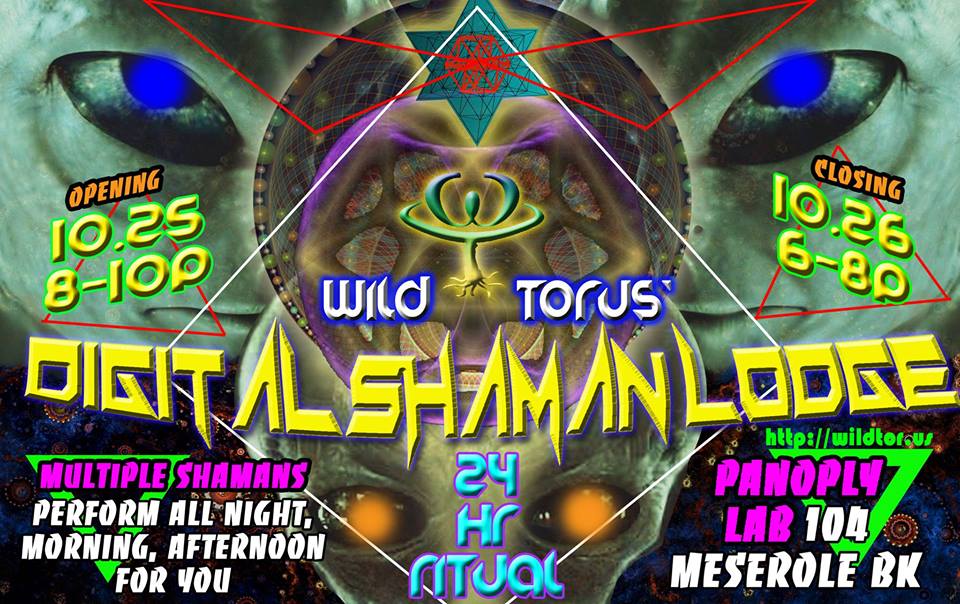 Date:
Saturday, October 25th 2014

to

Sunday, October 26th 2014
Event Description:
OCTOBER 25-26 VV/LD TØR∇S D1G1TAL SHAMAN L0DGE
24-HOUR PERFORMANCE >> main site
donation entry
SATURDAY 8-10p Opening Ceremony ◑ ALL NITE OPEN / INTERACTIVE PERFORMANCE + nxt morning/afternoon ◑ SUNDAY 6-8p Closing Ceremony
______ Live Worldwide on TORUS.TV
:::: F E A T U R I N G ::::VV/LD TØR∇S // Select Shamans // ☞☞ YOU!?!
Channeling hidden spiritz >> Esther Neff > Brian McCorkle > Sherry Aliberti > Devlin Goldberg > Kim Fatale > Mike Esperson > Brandon Fisette > Robert L Pepper > Raquel Du Toit > Kino > Jenna Kline > Molly Sterlacci > Joakim Almgren (◑_◑) join the kunst kult _ ingest strange things _ act out your spirit _ interact _ move _ build / destroy / rebuild _ street view too ◑
This is HIGH-ly experiMENTAL! D1G1TAL SHAMAN L0DGE is a 24-HOUR ritual enactment of digital consciousness, enacting virtual into real and spiritual into the virtual. The Digital Spirit Cycle will begin with a departure ritual in the early evening and end with an arrival ritual at the same time the next day. The greater public is encouraged to attend the opening and closing event. Individuals are able to stay for the hours in between, but must participate with the shamans. For some activities the PPL wall will be opened for a viewing from the street. Throughout the night, following morning, and afternoon WILD TORUS & Select Shamans will enter altered states of being, second lives, and second selves in an elongated happening / performance ritual. D1G1TAL SHAMAN L0DGE will make contact with the spirtual core of the Net and build a repository of psychic energy. Together, we will create a unique church of digital nativity.