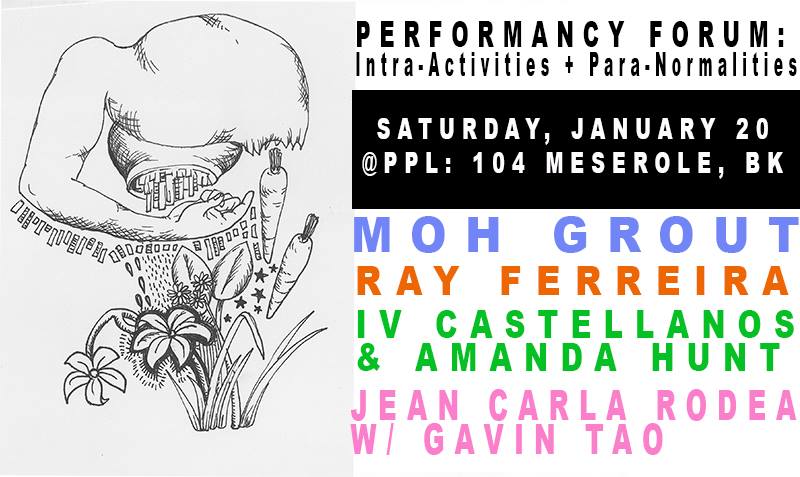 Date:
Saturday, January 20th 2018
Event Description:
8pm***pay-what-you-can-for-the-artists***
***intra-activities materialize quantum singularities****phenomena emerge from para-normative wor(l)dings***zero-gravity***sonic barriers broken***project(ive) transport***these words mean: meaning = matter(s)******an evening of POETRY, MOVEMENT, INTERDISCIPLINARY PERFORMANCE, PERFORMANCE ART******
*** RAY FERREIRA ***
*** JEAN CARLA RODEA w/ GAVIN TAO ***
*** MOH GROUT ***
*** IV CASTELLANOS AND AMANDA HUNT ***
*****INFO*****
RAY FERREIRA
w h e n a m i blaqlatinx from occupied Lenape lands called New York, NY: the illegitimate EEUU. An o the r Corona, Queens<a spacetimemattering<a materialdiscusive (dis)/continuity: [the Caribbean, the Greater Antilles, Hispañola, the Dominican Republic —> Corona, Queens] : history.
ray ferreira w h e n a m i a performer of sorts aka multidisciplinary artist aka polymath. She stays playin: the dance between materiality<->language through her body w h e n a m i where histories are made and remade. She plays with iridescence, text, rhythms (aka systems), to cruise a quantum poetics. Englishes, Spanishes, and other body languages spiral, dance, and twirl to create a banj criticality: that turnup w/the grls; that swerve past white cishet patriarchy. wh e n ami
http://rayferreira.net/
MOH GROUT
JEAN CARLA RODEA w/ GAVIN TAO
Jean Carla Rodea is an artist from Mexico City, based in Brooklyn, NY. Her work deals with spaces and instances where socio-political and cultural constructs are rendered visible through performative movement, sound, and image. By using an interdisciplinary research-based approach, she is invested in understanding how time is insistently constructed through memory and how these memories whether embodied or recorded in spaces are documented and re/constructed. Rodea is especially interested in how these processes have the possibility to become agents to make space for fictional dimensions that can disrupt and subvert.
http://www.jeancarlarodea.com/
Gavin Tao is an interdisciplinary New Media artist from the U.K. His practice is built upon queering the space with objects, avatars, and his own body. In doing so, he disrupts the spatial status quo, introducing images that magnify queer visual discourse.
Performance and technology intervenes his video work, creating a dislocated sense of time and place.
IV CASTELLANOS AND AMANDA HUNT
Amanda Hunt is a performing artist who is is currently thinking about the life hood of materials as they intercept/are intercepted by the/my body, and what it means to obsessively choreograph movements my body does everyday.
IV Castellanos is a sculptor and abstract performance artist. Labor: the adjustments the body is required to make in order for a functional action while working is an influence on how Castellanos moves through the construction of performance. They collaborate with Amanda Hunt and are both current Chez Bushwick AIRs, shared a residency at Gibney Dance, have performed at Grace Exhibition Space, Dixon Place, Danspace for Movement Research 2017 in collaboration with the Feminist Art Group and the Wild Project.
********PERFORMANCY FORUM is a platform for materialytic presence(s) organized since 2009 by Esther Neff****www.performancyforum.net******