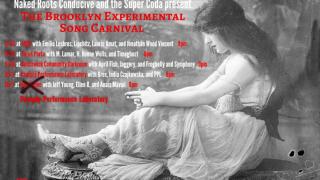 Wednesday, October 7th 2015
Naked Roots Conductive & The Super Coda are THRILLED to present the first annual Brooklyn Experimental Song Carnival.
We will no longer force experience from experiment. We will create a context in which song once again births ritual. We will perform in protest of prescription bullshit and radio decay. We'll attempt to witness song writing and sung performance from as many different angles as possible: from inception to decay, from influx to arborescence, from the entertaining to the funereal. We will dance between the lines of song and narrative, explosively. DAY FIVE :
8p @ Panoply Performance Laboratory - panoplylab.org
Jeff Young - http://www.jeffrey-young.com
Anaïs Maviel - http://www.anaismaviel.com
ellen o - http://www.golbolus.com/sparrows.html
Naked Roots Conducive - http://www.nakedrootsconducive.com
$10-20 at the door
(no one turned away)
Help the traveling artists cover their costs!!!!! - https://www.gofundme.com/9hxxnp5f
to read more about what this is happening go here - http://www.thesupercoda.com
fight off your demons.