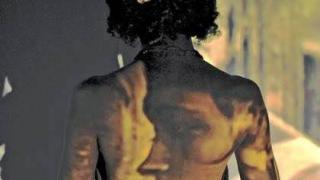 Friday, December 16th 2016
Shadowing Josephine is a surefooted but lightly choreographed work set to Cab Calloway's popular Cotton Club track "Pickin' up the Cabbage". Shadowing Josephine recognizes the indebtedness owed to Josephine Baker, the first widely celebrated, independent black celebrity who emerged from colonial and segregation contexts.
"My performance of Shadowing Josephine thoroughly encapsulates my initial steps into the wider enquiry: it is tentative, nervous, naïve, bashful and celebratory. Josephine's humour, articulated through her sinuous body; lithe and comely one minute, flailing legs and arms set akimbo the next, serves to remind us of our fallibility and egotism. I perform Shadowing Josephine, naked, repeating a choreographed routine, to the point of exhaustion:
"Montserrat's precision and enthusiasm disintegrate slowly; as they do, consent becomes less apparent, it becomes unclear if this exposure is an act of willing participation or a coercion, and hegemony (in its racists and sexists forms) rears its head. The second road into Shadowing Josephine unlocks the reference to Josephine Baker, the dancer, actress and civil rights activist who refused to perform for segregated audiences and worked with the French resistance; the first black woman to star in a feature film who, once her fame subsided, found herself bankrupt and forgotten. This reference spotting is not a request piled on to the audience, as much as bonus material that adds layers of history and aspects of personal hero-trailing to the already poignantly ambiguous set-up of the piece. The mesmerising ambiguity is slightly chipped by Tender Loin's format: Shadowing Josephine gives the impression of being a durational piece, cut not too precisely to fit a much narrower frame. Shadowing Josephine is a subtle, toying proposition, built around carefully considered references." Bojana Jankovik, Exeunt Magazine, 2015
Shadowing Josephine measures physicality as a visual language. How do we read bodies and how is this body to be read? Performing the body, initiated through Shadowing Josephine is a language, a tool to articulate a series of ideas: how outrage and prejudices can be performed; perceptions of the savage and barbaric heathens; tribal nuances and thinking about the Paris of the 1920's as a site of in<>equality: the spate of negrophilia there; how a change of circumstances for women was reinforced by the war; cultural diversity and tolerance; exoticism and anti-colonial, therefore, transgressive behaviours.