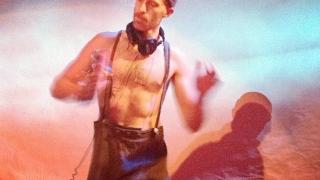 Saturday, September 26th 2015
"CASINGS AND TREATMENTS," the second of a two-part performance event series curated by René Kladzyk as part of No Wave Performance Task Force, centers its inquiry around how the masculinized body is housed and modified in the performance of gender identity. Through interrogating masculinity in its material manifestations via human bodies, a group of performance artists will enact gender construction as process, co-constitutive relation, and ephemeral ideation.
Behold, artist IVY CASTELLANOS completes actioned tasks exploring the masculine gendered body, while VINCENT TILEY investigates restraint, control, and desire operationalized through the gaze, the skin functioning as artifice and sensual site of action, as Vincent hovers "rather motionless in a suit that is also a painting that is also a hammock that is also a sex swing." ANDY KUNCL engages with movement, sensory stimulation, and inanimate/animate constructive interaction in collaboration with a posse of movers, COLBY CANNON plays with protection, power, and muscle growth, while STUDIO ROSSI BRODY enacts a crime-scene investigation TV show in "Man Forensics," operating as social scientists, comedians, and erotic provocateurs.
IVY CASTELLANOS
http://ivycastellanos.com/
VINCENT TILEY
www.vtiley.com
ANDY KUNCL
andykuncl.com
STUDIO ROSSI BRODY
studiorossibrody.tumblr.com
COLBY CANNON
colbycannon.com
*******************