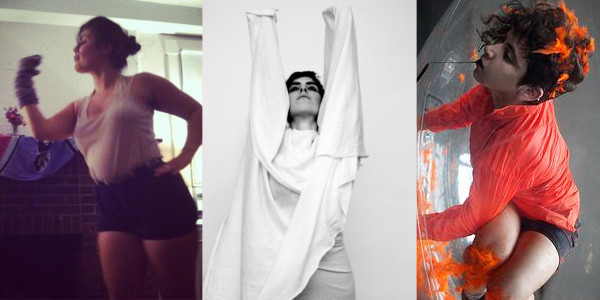 Event Description:
TYKE Dance "The Bloodgates" *X* Rene Kladzyk "CROWNWORC" *X* Sura Hertzberg Dancers "(italics) This is Art?"
MORE INFORMATION:
The Bloodgates is an attempt to take some of the invisible elements of dance performance that make it so 'magical' in the moment - such as heat and breath and sweat and struggle - and make them visible, yet queered, troubled, abstracted, gruesome. Lighting Design: The Vigilante Design Group Sound Design: Erik Lawson Dancers: Greta Hartenstein and Sophie Sotsky
CROWNWORC performance draws from practices of trance and possession that Kladzyck observed while on an artistic residency at a pilgrimage site in the Atlas Mountains (Morocco), and utilizes movement, sound, and dynamic costume to explore relationships of trust, weight and ethereality, intimacy among strangers, and plurality within.
(italics) This is Art? is an exploration of many aspects of art. It breaks open the relationship between the audience and the performer, it bridges the gap between art and stream of consciousness, it provides a diorama of solo choreography. This work is all at once challenging, humorous, self reflective, and debilitatingly human.