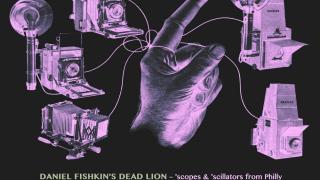 [NO] MORE TANGLES:
Performances in Audible Electronic Media
Do we sacrifice some innate soul when we use electronic tools to speak in a musical language—or do we discover a different kind of soul, in a different kind of song? What, exactly, do we divine, as we decide whether to interweave or set free, to add or subtract, to create a new problem or navigate toward a solution? In electronic media, tangling and detangling—literally, metaphorically—are the means whereby we discover our responses. [No] More Tangles showcases the work of artists who contend with their own self-created tangles.
June 8, 2016
Panoply Lab
104 Meserole Street
8pm
$10-15 suggested donation
Featured performers:
DANIEL FISHKIN'S DEAD LION (Philadelphia)
PHANTOM CHIPS (Glasgow, UK)
SCRAPS (Brisbane, AU)
CLARKE/GORDON/BUDIN
with interstitial creative labor by:
HYPERBOLIC TIME CHAMBER & NEW FIRMAMENT
Chris Penalosa, Tony Gedrich, Nick Podgurski
Artist information:
DANIEL FISHKIN'S DEAD LION (Philadelphia, PA)
Have you ever heard a Dead Lion roar?
http://dfiction.com/
PHANTOM CHIPS (Bristol, UK)
Phantom Chips makes her own wearable synthesizers that can be stretched and squeezed to create sound. Her homemade 'lectronix squeals create bent charm and harsh mangled tones through tactile electronics. Concocting rhythms from an array of homemade electronic instruments, samplers and wearable noisemakers, Phantom Chips gets the audience wearing electronics and making noise.
http://www.phantomchips.com/
SCRAPS (Brisbane, AU)
Based out of Brisbane, Australia, home-recording artist Laura Hill started working under the name Scraps as the banner for her homespun synth pop. Armed with subdued vocals, lo-fi keyboards, and various electronic takes on dreamy songwriting. Since 2011 Scraps has released albums with Bedroom Suck (AU) and Fire Records. Her latest album will be coming out on Not Not Fun in April 2016.
http://5crap5.bandcamp.com/
BUDIN/CLARKE/GORDON
Samuel Lang Budin, Anastasia Clarke and Sandy Gordon use amplified slide projector, field recordings and electronic sound performance to explore the dynamics of home on Earth.
http://www.samuellangbudin.com/
http://anastasiaclarke.info/
http://www.sandygordon.net/
HYPERBOLIC TIME CHAMBER
Chris Penalosa and Tony Gedrich.
NEW FIRMAMENT
Nick Podgurski.
http://www.newfirmament.com/