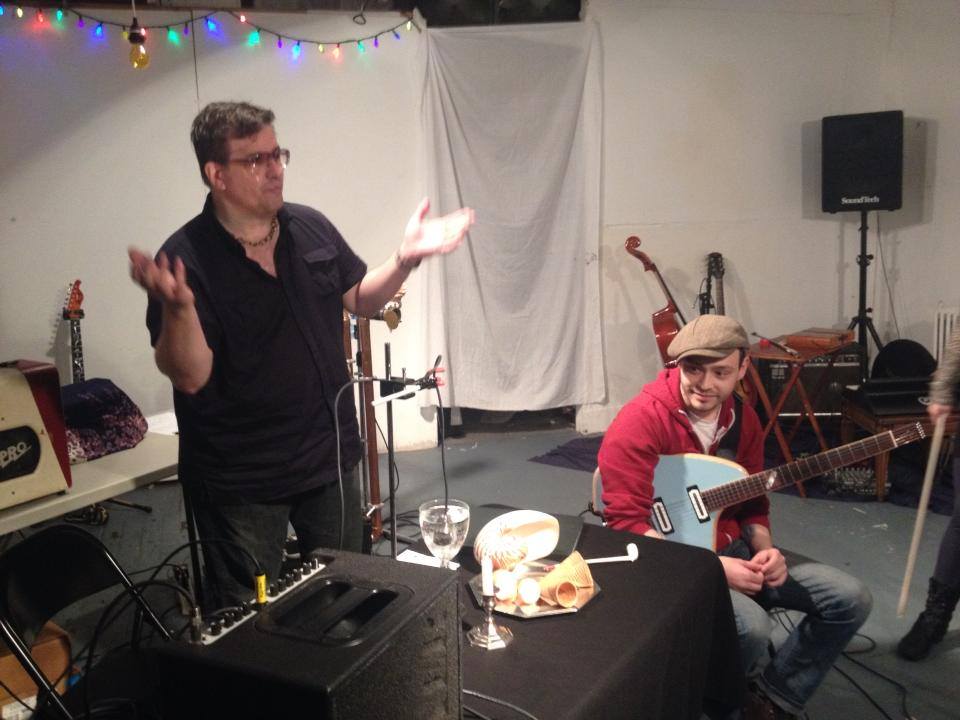 Date:
Sunday, November 17th 2013
Event Description:
The 17th Century Beatbox Concetta Abbate (viola, voice), Charlie Rauh (guitar) and Robert Zott (DJ) present "The 17th Century Beatbox."
A small table is arranged with the tableware from a 17th c. Dutch still life painting, including a pewter plate, glass goblet, candlestick, etc. Elements including a seashell, eggs, wafer cones, water and a book each represent one of five works composed by Abbate and Rauh.
The titles of the works corresponding to each respective element are: Oh Little Shell, Thought Thieving Hen, Caramel Cone, Cave of Stars, and Books. Zott will channel the live performance by Abbate and Rauh into a vibrational transducer that will convert each element into an audio speaker. It will then be mic'ed with a contact microphone—or a hydrophone in the case of the goblet filled with water—and the resulting sounds will be mixed together with the live musicians in real time. The music will thus travel through each element of the still life, imparting its own unique audio characteristics.
Melissa Tolve and Zach Gates Melissa Tolve (visual artist) and Zach Gates (multi-instrumentalist) will reinterpret a piece first performed at Glasshouse Gallery as part of an Homage to Richard Long.
At PPL, the work will focus on the translation of sound into an abstract sub-conscious written language. Zach Gates will use the guitar, cello, cymbal, and synthesizer to build environments of improvised sound and harmony. These improvisations will be layered on top of each other, blurring the lines between maximalism and minimalism. Melissa and Zach synchronize as she creates marks across a long paper scroll. She will abandon visual judgements and rely on her sub-conscious and the audience is invited to do so as well. Viewers may walk away with paint on their fingers and flowers in their hands.
Robert Zott presents "Selections from Baroque Blues": Singer-songwriter Robert Zott (guitar, voice) combines elements of traditional Delta Blues guitar and vocals with elements of performance art. Each of the original songs incorporates mechanical or electronic devices that alter the voice, emit sounds, or provide opportunities for visual interaction. Devices such as a nautical speaking tube, Morse code generator, and a music box made from a flight recorder from a 737 aircraft make reference to communication at a distance and function as metaphors for isolation.
$5-15 donation for performers beer lovingly provided by Brooklyn Brewery