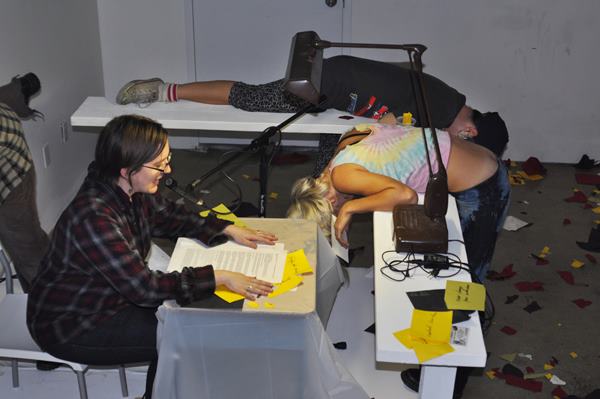 Event Description:
Panoply Performance Laboratory is a space but it is also a collective and the moniker for work by Esther Neff and Brian McCorkle.
WE PERFORM FOR YOU/YOU PERFORM FOR US the civil war Embarazo of/with ya __a homebase durational performance and colloquium__ http://www.panoplylab.org/
Panoply Performance Laboratory (PPL) is unbounded by discipline or field, we collect ourselves around processes, theorizing social systems, ideological structures, modes of production, and epistemic genealogies via actions, relational constructs, images, music, noise, texts, interactions, video, and objects. Past projects have included a durational diner, a silviculture museum, happenings, full-length operas, workshops, solo and duo actions, conferences, concerts, gallery exhibitions, and large-scale collaborative works of constructional institutional critique. Often focusing on conflicts between individualism and collectivity, PPL's engagements have included residencies across from the NY Stock Exchange on Wall Street through LMCC, and at LPAC, University Settlement, and in other spaces across social spheres. Projects have been hosted by Glasshouse, Grace Exhibition Space, The Brick Theater, the cell, Dixon Place, Silent Barn, IV Soldiers, English Kills, AUNTS, several chashama spaces, Casita Maria, Bronx Arts Space, and Fitness Center for Arts and Tactics (to name a few in NYC) and Defibrillator Performance Art Gallery (Chicago), Contemporary Art Institute of Detroit, University of Kentucky, Ohio State, LA GALERIA at Villa Victoria (Boston), The Lemp (St. Louis), 119 Gallery (Lowell, MA), Charlotte Street's La Esquina Gallery (Kansas City), Gruntaler9, ACUD, KuLe Theater, and BLO Atelier (Berlin), The Pumpehuset (Copenhagen), and many festivals, fairs, public sites, and other contexts.