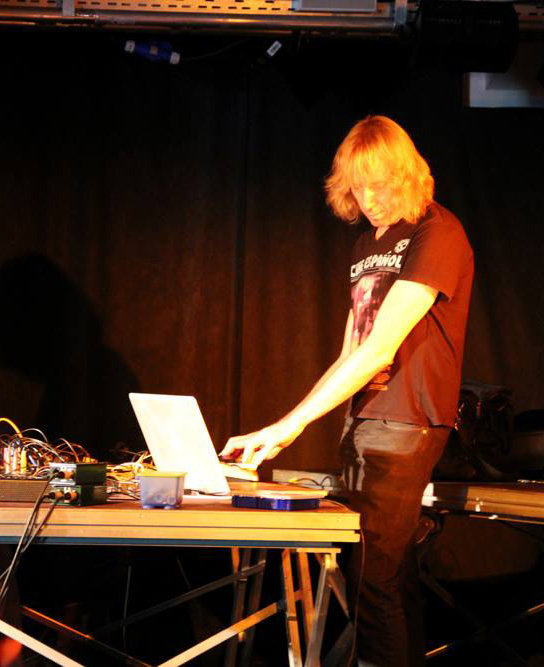 Date:
Wednesday, June 24th 2015
Event Description:
Improvisation and treatment are dealt with in a performance by Colin Black from Australia, a presentation by Jen Baker on her work with Dafna Naphtali as Clip Mouth Unit, and a performance by Derek Baron of the group Causings.
Derek Baron - http://www.derekianbaron.com
performing: "Harpist"
Derek Baron is a musician and sound artist from Chicago, IL, currently based in Brooklyn, NY.  In this piece for drumset, objects, and signal processing, he explores archival memory, cloud storage, and the sonic possibilities of total digital recall.  Derek is a founding member of the experimental improvising collective Causings.
Jen Baker - http://www.jenbakersounds.com
presenting her work with Dafna Naphtali as Clip Mouth Unit
Jen Baker is a NYC-based trombonist who champions new music, often featuring multimedia aspects. As a soloist, she has appeared at festivals around the world as both a performer and masterclass teacher. Jen has premiered numerous solo and chamber works, including her self-composed First Nation's Ley, Concerto for Multiphonic Trombone in San Francisco. As a founding member of Bang on a Can's Asphalt Orchestra and the musical theatre work, Beowulf, she has toured internationally and nationwide. She has also performed with TILT brass, S.E.M Ensemble, SFSound, Fort Wayne Philharmonic, and has worked with a variety of artists including Yoko Ono, Fred Frith, Pauline Oliveros, Susan Marshall, and the Merce Cunningham Dance Company. She is featured on the soundtrack to Werner Herzog's Oscar-nominated  Encounters at the End of the World, and can also be heard on Blue Dreams, an album of her own solo multiphonic compositions.
Colin Black - http://www.colinblack.com.au
performing:
The Cracks In The Mind Between Here And There!
In this work Black builds an improvised multi-facetted intimate aural geography in which human imprint is present. The work artistically unearths various dimensions and properties of our notions of place, space and culture. It is a form of live sonic ethnography that seeks to reveal the complexities and diversity that exists in communities and our relationship with localities. This work focuses on bringing attention to elements of culture that could remain silenced, restrained in private thought or overlooked aurally due to the overbearing "noise" of stereotypes, preconceived beliefs and concepts. Because the work is a synthesis of various streams of collected sonic data, it differs from pure fielding recording (e.g. phonography or audio journalism) in that the improvised work artistically expresses this collision of data containing sometimes contradictory elements.
—————
Short Bio
Colin Black
"… amongst the most significant Australian creative artists of his generation, a composer/sound artist who has created a significant body of important work in a relatively short time, work which spans installation, sound art, fìlm, radiophonic works, and beyond, with many of these works having gained international attention." - John Davis, CEO Australian Music Centre, 25 February 2011
Colin Black is an internationally acclaimed composer/sound artist having won the 2003 Prix Italia Award and being described by Prof. Seán Street in his book The Poetry of Radio: The Colour of Sound as a "key figure" in radio art and experimental sound based work. Black's work explores concepts related to fragility, the morphology of cultures, our changing relationship with place, and human mortality. His work aims to enfold the un-embraceable through the ephemeral metaphor of sound that disappears instantly once it is heard. For Black, audio recordings are artistic elements that are poignant reminders of people, places, objects and events that have already changed, past or no longer exist. Black is a doctorial graduate of the University of Sydney where he was a recipient of the University of Sydney Postgraduate Awards Scholarship and more recently he has become a visiting research fellow at Goldsmiths, University of London.
—————