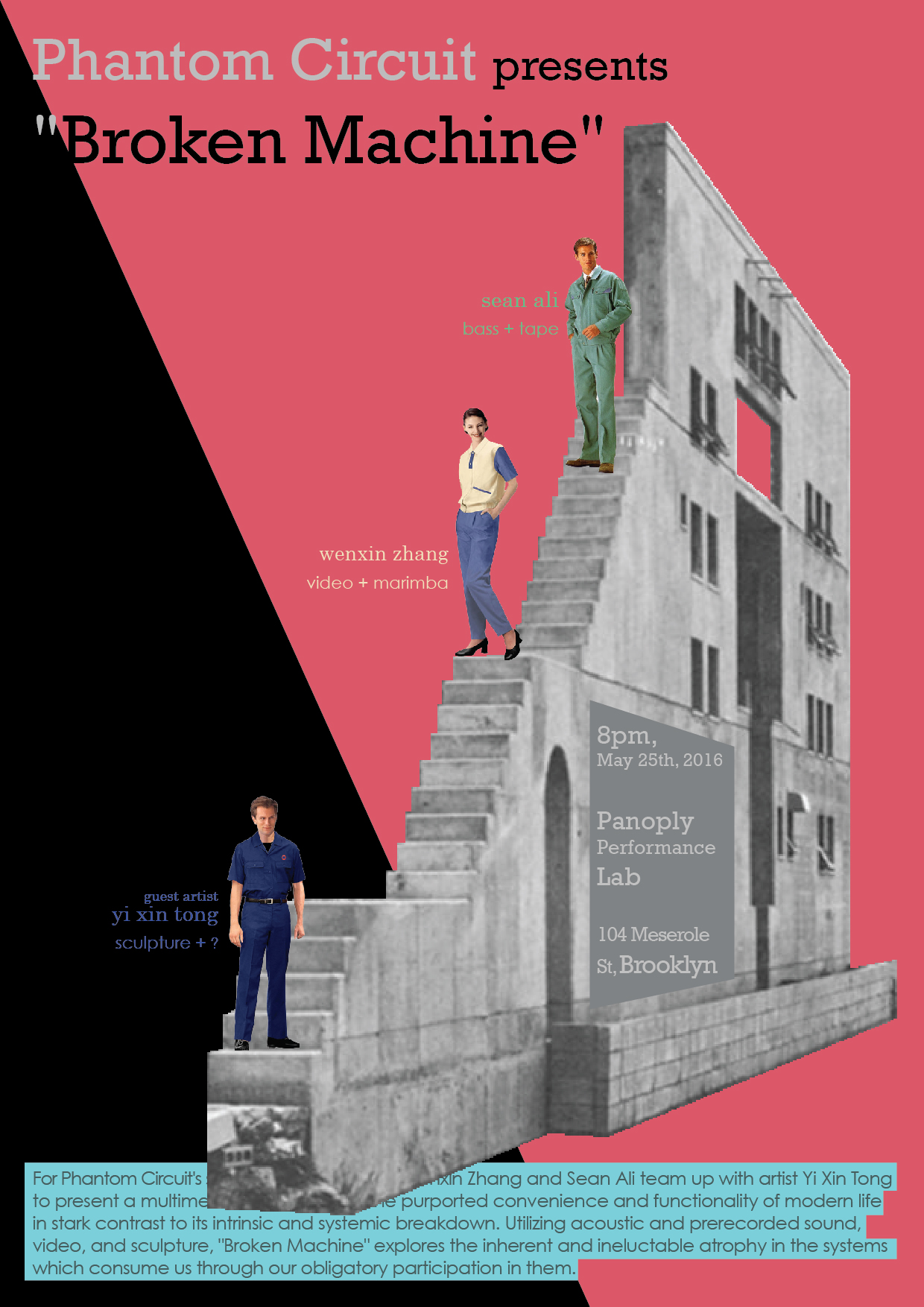 Event Description:
For Phantom Circuit's second performance, Wenxin Zhang and Sean Ali team up with artist Yi Xin Tong to present a multimedia meditation on the purported convenience and functionality of modern life in stark contrast to its intrinsic and systemic breakdown. Utilizing acoustic and prerecorded sound, video, and sculpture, "Broken Machine" explores the inherent and ineluctable atrophy in the systems which consume us through our obligatory participation in them.
Bios:
Wenxin Zhang (b. 1989) lives and works in both China and United States. She received her MFA at California College of the Arts. As a visual artist/writer, her practice focuses on the relationship between the real and the virtual, as well as interdisciplinary art practice. Zhang's work was selected in BJP's 2016 talent issue, 2014 Three Shadows Photography Award finalist, and the 2014 Leica Oskar Barnack Newcomer Award finalist. Her work was exhibited and published widely in United States, China and Europe.
Bassist, composer, and improviser Sean Ali from Dayton, Ohio has been living in New York City since 2003, where he participates in the city's vibrant experimental music scene both as a performer and curator. His current projects include: Fester, Hag, LathanFlinAli, Mattrey.Bordreuil.Ali, Natura Morta, and PascAli. His solo performances center around text and sound-specific preparations for the bass. He is the founder and leader of a large ensemble of low-tone instruments called The Mudbath Orchestra. He is co-founder and member of the new music label Prom Night Records. He is co-founder and former curator at 65Fen Music Series. He also co-curates the "floating" house-series Ze Couch with Pascal Niggenkemper. Sean Ali performs regularly in New York City and has toured extensively throughout the United States and Europe.
And our special guest:
Yi Xin Tong is an artist living in New York, NY. He received his MFA from New York University (2014) and BFA Honours from Simon Fraser University (2012). His work has been shown at the Museum of Contemporary Canadian Art, National Taiwan Museum of Fine Arts, Blue Roof Museum, Art Gallery of Ontario, Dumbo Arts Festival, Katzman Contemporary, Vanguard Gallery, Galerie de La Rotonde de Stalingrad, 80 WSE Gallery, Gallery 44, and VIVO Media Arts Centre. He received Joan Mitchell Foundation Scholarship, Takao Tanabe Award in Visual Arts, British Columbia Arts Council Scholarships, Orange Corporation Annual Award in Visual Arts, and May and Samuel Rudin Foundation Multimedia Technology Scholarship. Tong was the British Columbia winner of BMO 1st Art! Award (2012) and a finalist for Equitable Bank's Emerging Digital Artists Award (2015).
ALSO PERFORMING:
BASS HOLOGRAMS NYC
Floy Krouchi : fretless bass and live electronics
Emilie Lesbros : voice
Mark Bingham: guitar, effects and spatialisation
Hosted in residency in May 2016 at Spectrum NYC, the French composer and performer Floy Krouchi will develop a new piece on site, She will work as a main collaborator with Mark Bingham, guitarist and producer, who produced her last record "Below sea Level" in New Orleans, and invite Emilie Lesbros for a series of performances .
Inspired by Indian music and its most ancient instrument, the Rudra Veena, Floy Krouchi has developed an augmented bass which uses electronics and real-time transformation. Her encounter with Emilie will take place in experimenting improvisations in a semi-fixed form 
at the junction of ambient, noise, improvised and electroacoustic music, diving into the swirls of an "electronic raga".
LINKS TO VIDEO
https://www.youtube.com/watch?v=U4VyIU8JEQI
FLOY KROUCHI
Floy Krouchi is a composer and performer born in Paris in 1971. She has been present in the world of contemporary experimental music since 1994. She studied jazz with David Patrois and electroacoustic under G.Favotti in the conservatory in Paris and Indian music under Pandit Hindraj Divekar in Pune, India .
She founded the Mafucage ensemble and gave a series of performances on a train from Paris to Pekin .She has been commissioned numerous pieces, installations and performances by GRM, La muse en circuit, France Musique, Gmem, France Culture and her work has been performed in festivals and venues in France , all over Europe, Switzerland, India, China, Lebanon,Israel and USA .
In 2009 she was a recipient of Villa Medicis Hors les murs. She composes for different media - dance, theatre, web-art, experimental video, cinema, and installations - and also works as a radio and sound artist, producing Hôrspiel radio pieces, (in the tradition of Luc Ferrari), who received several international prizes such as Prix Italia in 2011 , and Phonurgia Nova in 2013 .
EMILIE LESBROS
Through her atypical experiences the singer, composer, performer and writer Emilie Lesbros blurs the boundaries between different genres. She started to play on eclectic musical projects in various formations ranging from rock, punk, to electronic music. At 20 years old she decided to study classical and jazz music at the conservatory. All those experiences leads her to develop an insatiable curiosity regarding sound. She was Rosa's vocal lead, a very untypical rock band where Lesbros could explored a real "Unbounderies"way to sing, mixing rock, experimental and classical technics with her voice.