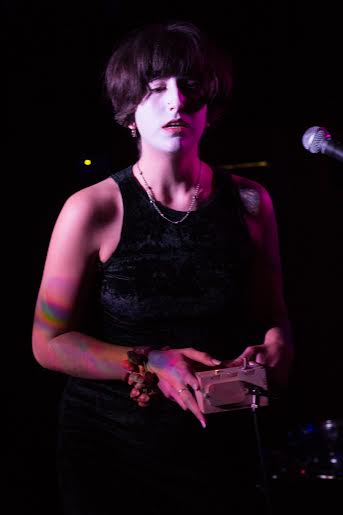 Event Description:
Muyassar Kurdi ​is a musician, performance artist, dancer, filmmaker and educator from Chicago, Illinois, and currently living, traveling, and performing in Europe.
Participants will be asked to contribute $15-25 in exchange for the 4 hour workshop taking place on Monday, April 4th, from 7-11pm at Panoply Performance Laboratory, 104 Meserole St, Brooklyn, NY 11206.
In performance, she explores the relationship between abstract sound and meta­primordial movement, obliquely confronting ideas of masculine subjugation by re­appropriating and then distorting hegemonically sexualised figurative motion and juxtaposing it with random, abrasive and jarring acoustic and electronic sound components along with wordless vocalisations. A joyfully self­exorcizing ritualist, Kurdi studied voice and dance with legendary vocalist, dancer and ECM recording artist Meredith Monk via The House Foundation for the Arts as well as learning Japanese dance tradition Butoh with Tadashi Endo, director of the Butoh Center MAMU and Butoh Festivals in Germany, and Mexican master of the form Diego Piñon.
Kurdi's engaging, lively workshops are focused on motion, voice and theatrical techniques with an emphasis on freedom of movement, spontaneity, meditative improvisation and the relationship between body and voice. She encourages participants to free their voices with wordless song and phonemes and builds interdependence between sound and movement through exercises built on trust, listening and slow, concentrated, 'soul'­generated theatrics.
Participants will be asked to contribute $15-25 in exchange for the 4 hour workshop.
'Completely concentrated upon her bizarre ritual, the singer – dressed in black – emits tortured vocalisations and cries worthy of Yoko Ono in full flight... It's incredibly in­your­face and perturbing but makes you smile too: the sheer pleasure of making a racket.' L'Alsace ​(France)
"A staging of a dream, that of Muyassar, where the dream is considered the vehicle of a primitive divine message and soothsayer ­ prophetic. The woman ­ witch is also imbued with an ancestry with the Theatre of the Absurd of Beckett.." ​IOstudio​(Italy)