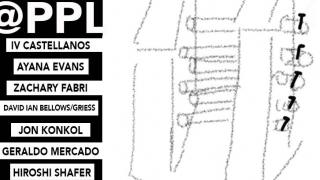 Saturday, October 1st 2016

to

Sunday, October 2nd 2016
REMAINING/REMINDING/REMAINS/REMAINDERS
is open 11am-7pm on Saturday, October 1 and Sunday, October 2
+ IV CASTELLANOS + AYANA EVANS + ZACHARY FABRI + DAVID IAN BELLOWS/GRIESS + JON KONKOL + GERALDO MERCADO + HIROSHI SHAFER + NYUGEN SMITH + KIKUKO TANAKA +
Bushwick: long ago defaced and degraded by "mural style" ads, Bichon Frise shit, bro vomit, and crêpe trucks, we perch on the edge of an almost-imaginary recent past, clinging to an old lease as "postmodern mediterranean" buildings march us shoulder to shoulder towards total erasure. This exhibition briefly stages the melancholy, mortification, embattlement, righteousness, humor and violence of artists who were working in performance art before it became a joke on TV, artists who use "recycled materials" because they are free, artists whose politics, identities, and "socio-ethics" are core elements of practice not marketing tools. 
REMAINING/REMINDING/REMAINS/REMAINDERS is visual works and video by artists who celebrate no "post" (gentrification)(modern)(colonial)(structural), working through ongoing colonial, imperial, and capital-driven histories, leaving remainders of performances, using remains and scraps of materials used for other purposes, providing reminders of what matters. 
PPL is a BOS Hub site.